San Diego-area TV Sports Anchor Humberto Gurmilan Nominated for No Limits Award, Honoring People From All Walks of Life Who Have Succeeded Despite Physical Challenges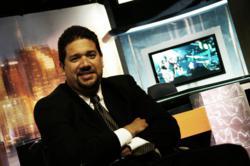 After being paralyzed in a surfing accident at 14, Humberto Gurmilan persevered to become one of the most popular TV personalities in San Diego, California.
San Diego TV sports anchor Humberto Gurmilan was recently nominated for the 2012 "No Limits" Award, a charity-based mission created to celebrate businesspeople from all walks of life who have overcome physical adversity and achieved success.
For Beto, as he is called by family and friends, his story of conquering physical challenges began innocently enough on a beautiful September morning in Baja California, where he was doing what he loved most – surfing with his buddies.
"All I remember is diving off my board like I had done a thousands times before, but this time the water was too shallow," said Gurmilan, who was 15 at the time. "It's still mostly a blur, but I remember hitting the bottom and being barely conscious as my friends pulled me out of the water. I would have certainly drowned without their help."
While he survived the 1994 accident, he suffered a life-altering spinal cord injury that left him permanently paralyzed from the waist down.
"It took me a few weeks to come to the sobering realization that my life would never be the same again," said Gurmilan, an athletic kid who loved playing a variety of sports. "It was then I began to have some pretty dark thoughts, but my family and friends – along with my natural optimistic attitude – got me through those first difficult depressing weeks and months."
Even during those first few months of rehabilitation and physical therapy, he wasted no time assessing his future and setting goals. "Growing up in the San Diego area, I loved to watch Padres games on TV," Gurmilan remembers. "I would turn the volume down and start doing my own play-by-play announcing. I dreamed of becoming a member of the press in some capacity – whether it was newspaper, radio or TV it didn't matter. I just used my heart as a compass to achieve my goals."
Gurmilan, who earned a degree in communications from San Diego State University and recently added a Masters Degree to his credentials, attained his dream by becoming a popular reporter for Telemundo Channel 33, where he anchors the sports report for both San Diego and Tijuana-area residents.
"Humberto exemplifies what the 'No Limits' Award is all about," said Patrick Lennon, CEO of ROI Media Direct, a direct response radio and television advertising agency and sponsor of the "No Limits" Award Mission. "His courage, positive attitude and willingness to 'give back' after such a life-altering accident would inspire anybody."
Author of Desde mi Silla, or "From my Chair" in English, is a book detailing his recovery and life's journey from a catastrophic accident to realizing his career goals, Humberto is actively involved in charitable work, and sits on the board of Access to Independence, a non-profit organization that provides services to people with disabilities. He also routinely speaks at high schools. "My goal is to one day start my own foundation that assists children in Mexico who need wheelchairs, prosthetics, rehabilitation and therapy… not to mention a solid education and mentoring."
"I'm certainly proud to be nominated for the 'No Limits' Award," he said. "There are so many people who just need a little help and encouragement, and to hear it from somebody who has been in their shoes," he added.
The "No Limits" Award was created to inspire individuals suffering from cancer, blindness and other disabilities to never give up on their dreams, with the winner selected from nominations submitted to the "No Limits" Award Mission Website, http://www.NoLimitsAward.org, throughout the year.
A check for $5,000 will be handed to the "No Limits" Award winner to be given to the Braille Institute, Lymphoma Society, or the designated charity of his or her choice. In addition, the winner's charity or cause will also receive $5,000 in free national media exposure via radio and/or television public service announcements. A nationwide press release program will also be launched to tens of thousands of media outlets featuring the winner's story and charity.
"We're also looking at other tangible ways of supporting the charitable causes of our 2012 'No Limits' Award Mission, such as free computers for the blind," said Patrick Lennon, CEO and founding partner at ROI Media Direct, who conceived the program after enduring multiple life-threatening brain surgeries, two bouts with cancer, a heart aneurysm, a stem cell transplant and blindness.
If you would like to share your inspiring story with others, know of somebody you would like to nominate for the "No Limits" Award, or want to see and read more about Beto and other nominees, go to http://www.NoLimitsAward.org or visit them at Facebook.com/NoLimitsAward.
Related Articles:
---